2016 Gibson Acoustic J-200 EC Claro Walnut Single Cutaway Mint Beauty OHSC *623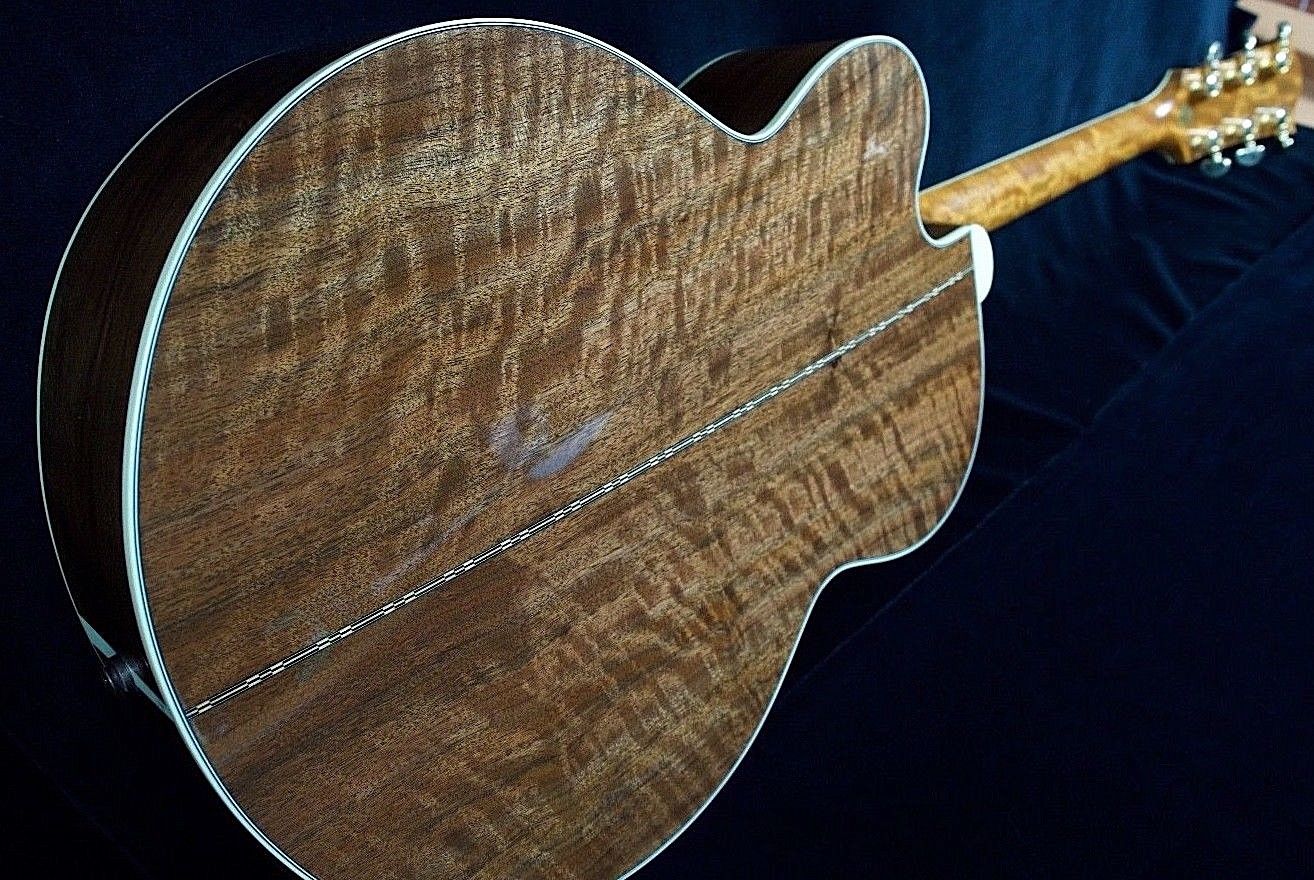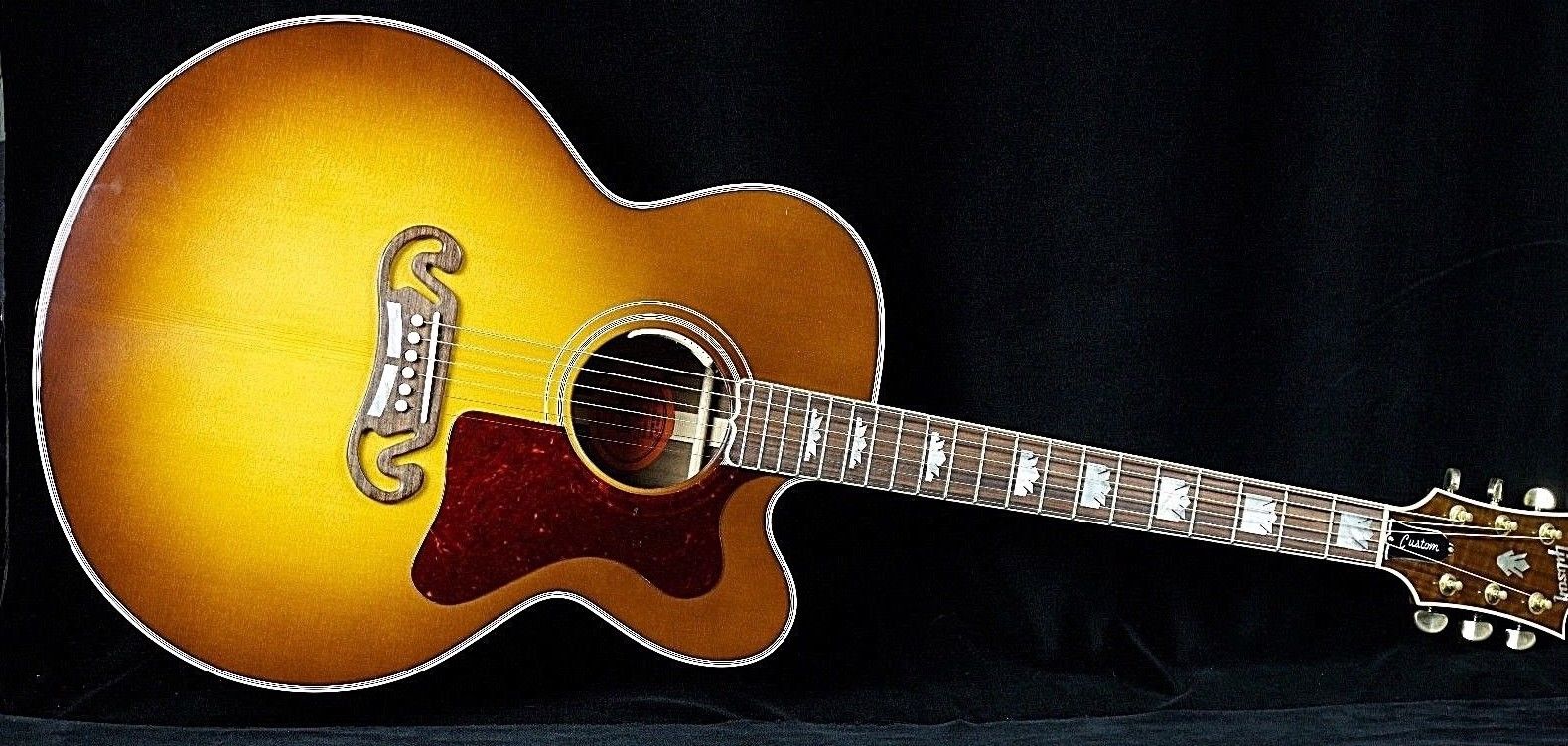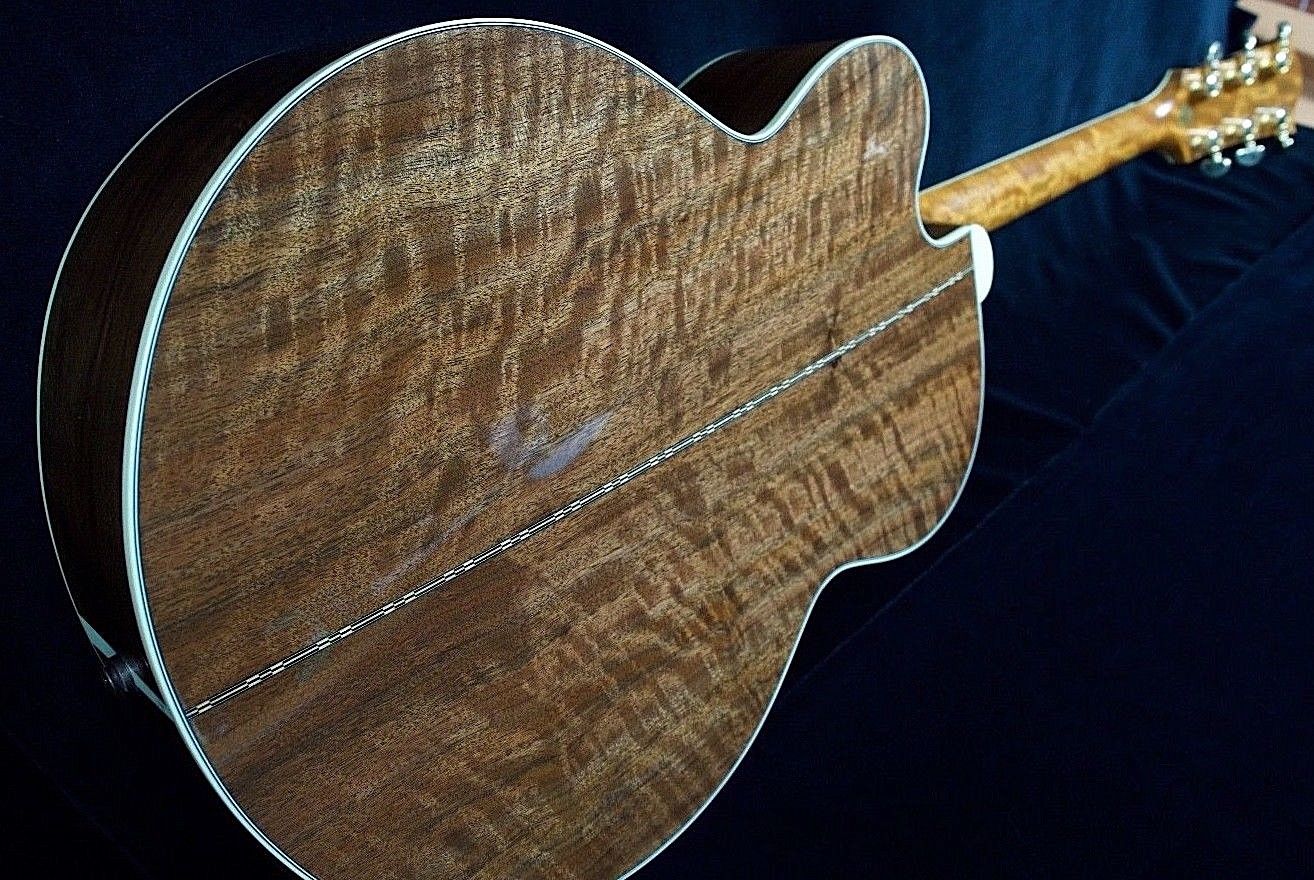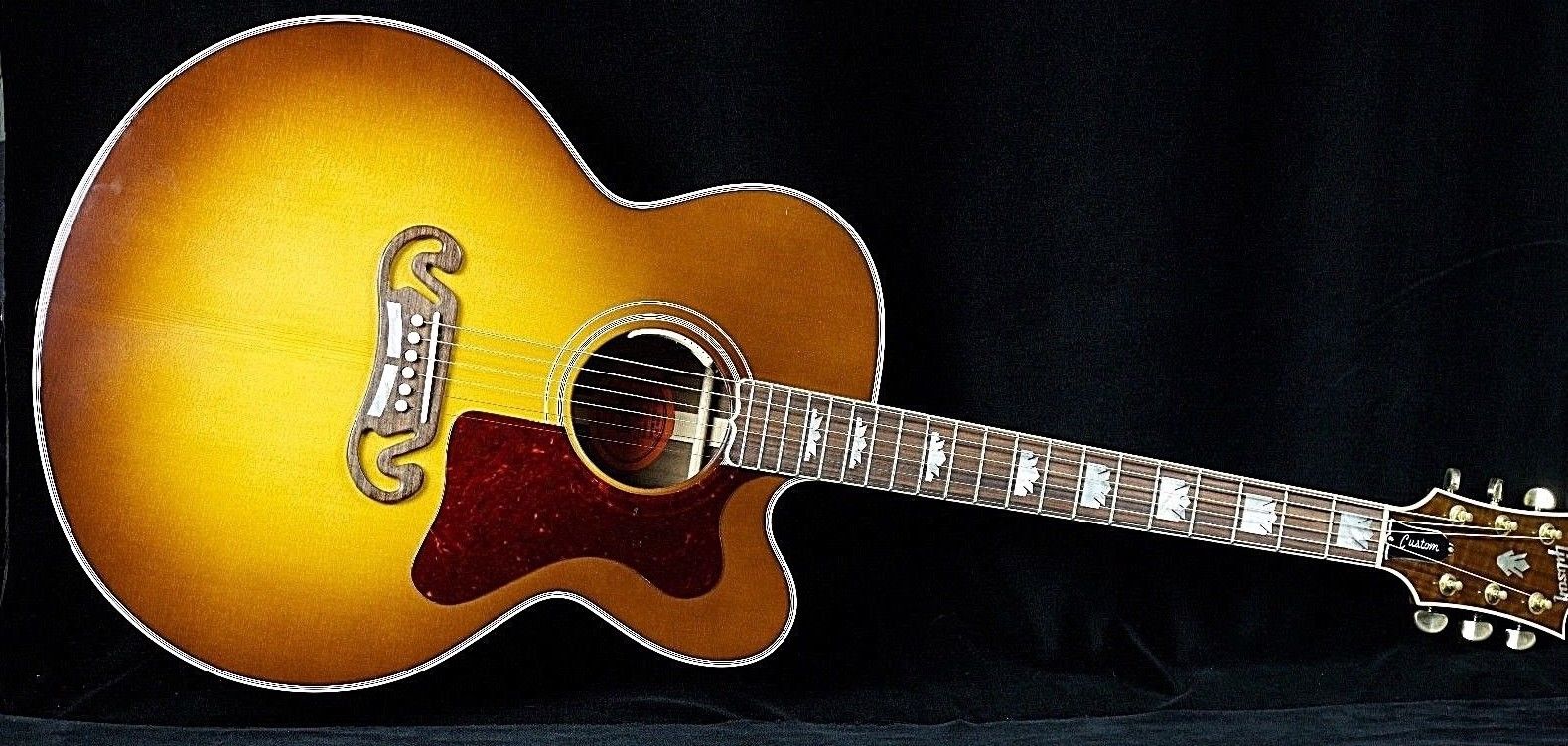 2016 Gibson Acoustic J-200 EC Claro Walnut Single Cutaway Mint Beauty OHSC *623
The guitar: (exactly why this is called J-200 EC and not SJ is a mystery). EC's are rare now having been discontinued for 10 years, and just recently began being reissued in various sizes.
This is a 2016 Limited Edition J-200 EC Claro Walnut flattop acoustic/electric hollow body guitar. Has a honey burst finish, sitka spruce top, and figured Claro Walnut back and sides. Factory installed LR Baggs Anthem electronics. Honey Burst Nitro Finish, Sitka Spruce Top, Claro Walnut Back and Sides, Mahogany Neck, Rounded Neck Profile, 25-1/2 " Scale Length,Bone Nut and Saddle, 1.725 Nut-Width, Top and Back Binding, Center Purfling on the Back, Mother-of-Pearl SJ-200 Crown Fret Inlays, Rosewood Fretboard with 20 Frets and 12" Radius, Factory Installed LR Baggs Anthem Pickup, Gold HardwareRosewood Mustache Bridge with Mother-of-Pearl Inlays, Tortoise Pickguard, Rosewood Headstock Overlay with Mother-of-Pearl Crown Peg-head Logo, Gold Grover Rotomatic Tuners.
International sales are welcome. CITES compliant.
These are beautiful to the eye and to the ear. Booming balanced with well balanced highs. A word about Claro Walnut wood:
If you would prefer not to read the description of the wood below, suffice to say that the late furniture maker George Nakashima used Claro walnut extensively and brought it to the attention of fine woodworkers. Mr. Nakashima's furniture is priceless and in all major museum collections!.
The wood:
Here is a piece from "Woodshop News".
Claro walnut has a limited growing area - California to Washington - but is highly sought after for its figure and size. It is often sold in slab form for table tops, sometimes in immense sizes. The wood received international recognition thanks to George Nakashima's Peace Altars and large table tops. "Basically it is popular for the color and the grain - the grain has more variation than the color. It is not as uniform as what the American walnut is," says Alan Zablonski, owner of Berkshire Wood Products in Sheffield, Mass. "We sell it mostly in the slab form. Sometimes we have it up to 4' wide, occasionally a bit larger, and up to 3" thick. We sell it mostly for table and bar tops, that sort of thing. Like any specialty market, it's not something you can make a living off of one species, but it is an important part of what we sell."
"Claro walnut is much more dramatic than other walnuts," says Russ Jacobson of Global Wood Source Inc. in San Jose, Calif. "It has colors in it, is typically much more figured, it has the oranges and the greens. It just has a lot more life to it than the Eastern stuff, which is kind of homogeneous and uniform in color."One person who has made a living on claro walnut is Scot Wineland of Wineland Walnut in Chico, Calif., which is an epicenter of the wood.
"Many woodworkers first learned about claro walnut from the large furniture pieces built by George Nakashima," Wineland says. "Years and years ago, I had these big trees and he was running out of big black walnut trees, so I started supplying him with these huge slabs of absolutely gorgeous wood for his furniture and his tables. He came out here a couple of times to my place and we cut up a couple of logs for him that were just spectacular. I've got a dining room table that he made of a log that weighed 26,480 lbs."
"The origin of the term claro was first used to describe Old World walnut being grown in Spanish California, but its preferred modern usage is for the variegated wood now being harvested from grafted orchard stock," said the late Jon Arno, noted wood technologist and author, in a 2004 conversation with Woodshop News. "Wood from the lower trunk of these grafted walnuts often develops beautifully into variegated wood with dark brown and tan marbling, and this is the material usually referred to by cabinetmakers as claro."Specialty wood dealers trace the origin of claro walnut (Juglans Hindii) to a species back when the Spaniards settled California. They brought seedlings and walnuts from Mexico and, as they established missionaries, walnut was planted as a food source and a shade tree. The word "claro" translates to "white" or "light."
Gen. John Bidwell, a pioneer, planted walnut seeds in the 1850s, most notably in Chico, Calif., where some of the trees remain standing. However, the majority of claro walnut used in woodworking today is the trunk portion of grafted orchard trees. The area where the grafting took place often displays a variegated figure. As for claro walnut's color, the description depends upon who you ask and from which tree the wood came.
"I consider nice claro walnut to have a café-au-lait color," says Myles Gilmer, owner of Gilmer Wood Co. in Portland, Ore. "We sell it in lumber form, slabs for table tops, but also a lot of smaller pieces. We sell a lot for guitar pieces. It's not the best tonewood, but people really like the appearance of the wood. It's known to be a California wood, but I've bought some stuff from as far north as Oregon and Washington that was really beautiful."
From "Woodshop News". Permission for use being requested.
This is a piece of furniture modeled after the late Nakashima pieces made of Claro Walnut. See text above. Mr. Nakashima, who brought Claro Walnut to the attention of collectors, made furniture that is priceless and museum quality, and is in most major collections. At auction prices range from low thousands to $500,000.